Turning Lemons into Lemonade:
Hardiness Helps People Turn Stressful Circumstances into Opportunities
Research shows hardiness is the key to the resiliency for not only surviving, but also thriving, under stress. Hardiness enhances performance, leadership, conduct, stamina, mood and both physical and mental health.
Findings
Why do some people suffer physical and mental breakdowns when faced with overwhelming stress while others seem to thrive? A landmark 12-year longitudinal study by psychologist Salvatore R. Maddi, Ph.D., and colleagues at the University of Chicago involving one of the biggest deregulation and divestiture cases in American history provides some answers.
In 1981 Illinois Bell Telephone (IBT) downsized from 26,000 employees to just over half that many in one year. The remaining employees faced changing job descriptions, company goals and supervisors. One manager reported having 10 different supervisors in one year. Dr. Maddi and his research team were already studying more than 400 supervisors, managers and executives at IBT before the downsizing occurred and they were able to continue following the original study group on a yearly basis until 1987. Results shows that about two-thirds of the employees in the study suffered significant performance, leadership and health declines as the result of the extreme stress from the deregulation and divestiture, including heart attacks, strokes, obesity, depression, substance abuse and poor performance reviews. However, the other one-third actually thrived during the upheaval despite experiencing the same amount of disruption and stressful events as their co-workers. These employees maintained their health, happiness and performance and felt renewed enthusiasm.
What made the two groups so different? Dr. Maddi found that those who thrived maintained three key beliefs that helped them turn adversity into an advantage: commitment, control and challenge attitudes. The Commitment attitude led them to strive to be involved in ongoing events, rather than feeling isolated. The Control attitude led them to struggle and try to influence outcomes, rather than lapse into passivity and powerlessness. The Challenge attitude led them to view stress changes, whether positive or negative, as opportunities for new learning.
There is no more extreme example of workplace stress than the battlefield. Research by psychologist Paul T. Bartone, Ph.D., of the U.S. Military Academy at West Point found that hardiness protected Army reserve personnel mobilized for the Persian Gulf War in the early 1990's. In this study, the higher the hardiness level, the greater the ability of soldiers to experience life- and combat-related stress without apparent negative health consequences, such as post traumatic stress disorder or depression. So, hardiness at least partially explains why some soldiers remain healthy under war related stress.
Significance
Results from the IBT study and other research shows that hardiness enhances performance, leadership, conduct, stamina, mood and both physical and mental health by giving people the courage and capability to turn adversity to advantage.
Practical Application
Dr. Maddi and his team used what they learned in the IBT case to develop a training program to help stressed-out employees, including those still at IBT. Those that took part in the training program reduced their anxiety, depression and other signs of strain, while increasing their job satisfaction and morale. These changes persisted after the training course was over. The training program, offered through the Hardiness Institute, is now widely used by organizations to improve worker performance and health. The company also offers an assessment test that is currently used in screening applicants for jobs (such as the U.S. Navy Seals) and placing employees in the right positions. In addition, the institute offers a training program for students that motivates them to do well, and to stay in and graduate from school.
Hardiness and resiliency research is also being used by the American Psychological Association (APA) to help children, teenagers and adults to adapt well to adversity, trauma, tragedy, threats and other significant sources of stress. In the fall of 2003, the APA launched "Resilience for Kids & Teens," a school-based campaign which focuses on teaching the skills of resilience for problems ranging from adapting to a new classroom to bullying by classmates or even abuse at home. The campaign included the distribution of a special issue of Time for Kids Magazine to more than two million fourth- through sixth-graders and their teachers to help children learn the skills of resilience, using "kid-friendly" language.
The APA has also partnered with the Discovery Health Channel for a national, multi-media campaign designed to help Americans work through personal tragedies by learning strategies for resilience. The partnership was forged in the wake of the September 11th 2001 tragedy.
Cited Research
Bartone, P. T. (1999). Hardiness protects against war-related stress in army reserve forces. Consulting Psychology Journal, Vol. 51, pp. 72-82.
Khoshaba, D. M. & Maddi, S. R. (2001). HardiTraining. Newport Beach, CA: Hardiness Institute.
Maddi, S. R. (1987). Hardiness training at Illinois Bell Telephone. In J. P. Opatz (Ed.), Health promotion evaluation, pp. 101-1115. Stevens Point, WI: National Wellness Institute.
Maddi, S. R. (2002). The story of hardiness: Twenty years of theorizing, research and practice. Consulting Psychology Journal, Vol. 54, pp. 173-185.
Maddi, S. R. & Khoshaba, D. M. (2001). HardiSurvey III-R: Test development and internet instruction manual. Newport Beach, CA: Hardiness Institute.
American Psychological Association, December 22, 2003
~~~~~~~~~~~~~~~~~~~~~~~~~~~~~~~~~~~~~~~~~~~~~~~~~~~~~~~~~~~~~~~~~~~~~~~~~~~~~~~~~~~~~~~~~~
BULLYING
Children, Adolescents, & Their Families):
What Parents, Teachers Can Do to Stop It Questions for bullying expert Susan Swearer, PhD, is an associate professor of School Psychology at the Univ of Nebraska – Lincoln (UNL) in the Dept of Educational Psychology Dr. Swearer is co-editor of the recently published book, "Bullying in American Schools: A Social-Ecological Perspective on Prevention and Intervention" (2004; Lawrence Erlbaum Associates), one of the authors of "Bullying Prevention and Intervention: Realistic Strategies for Schools" (2009; Guilford Press), co-editor of the "Handbook of Bullying in Schools: An International Perspective" (2010; Routledge), co-editor of "Bullying in North American Schools" (in press, Routledge) and is on the editorial review boards for "School Psychology Review," "Journal of Anxiety Disorders," "Journal of School Psychology," and the "Journal of School Violence." She has written more than 50 professional publications on the topics of bullying and mental health issues. APA. The news of late seems to be filled with terrible stories about youngsters being bullied, even to the point of suicide. Has bullying become more prevalent or more severe, or is this a case of over-reporting by the media? Dr. Swearer. We don't know if bullying has become more prevalent or more severe in recent years. We don't have national, longitudinal data that can answer this question. What we do know is that bullying is a problem that reaches into the culture, community, school, peer groups and families. The extent of the problem will vary across different communities and schools. In some schools, physical bullying might be particularly prevalent, whereas in another school, cyber-bullying might be particularly prevalent. In some schools, there may be a lot of bullying and in other schools, there may be very little bullying. The media are reporting cases where students commit suicide as a result of being bullied because these cases are so tragic and in some cases, have resulted in lawsuits against the bullies and the schools. We should remember that Dr. Dan Olweus, the Norwegian researcher who started studying bullying in the early 1980s, did so partly as a result of three boys, ages 10 to 14, who committed suicide in 1982 as a result of being bullied. Sadly, this is not a "new" problem. APA. If a parent or teacher suspects a child is being bullied, what are the most effective steps he/she should take to protect the victim? Dr. Swearer. Parents and teachers MUST intervene when they see bullying take place. First, they must tell the student(s) who are doing the bullying to stop. They need to document what they saw and keep records of the bullying behaviors. Victims need to feel that they have a support network of kids and adults. Help the student who is being bullied feel connected to school and home. Students who are also being bullied might benefit from individual or group therapy in order to create a place where they can express their feelings openly. APA. Who is more at risk for suicide if bullied? In other words, are there personality traits or markers that parents and teachers should look for when they know a child is being bullied? Dr. Swearer. There really is no "profile" of a student who is more at risk for suicide as a result of bullying. In the book Bullycide in America (compiled by Brenda High, published by JBS Publishing Inc. in 2007), mothers of children who have committed suicide as a result of being bullied share their stories. Their stories are all different, yet the commonality is that the bullying their children endured resulted in suicide. We do know that there is a connection between being bullied and depression, and we know that depression is a risk factor for attempting suicide. Therefore, parents and educators should look for signs that a child is experiencing symptoms of depression. APA. You have been conducting research on a program called "Target Bullying: Ecologically Based Prevention and Intervention for Schools" that looks at bullying and victimization in middle-school-aged youth. Your findings suggest there are certain psychological and social conditions that fuel bullying. What are they and what are the best interventions to stop the cycle? Dr. Swearer. I have been conducting research on bullying since 1998 and during this time, I have become increasingly convinced that bullying is a social-ecological problem that has to be understood from the perspective that individual, family, peer group, school, community, and societal factors all influence whether or not bullying occurs. The question that I ask students, parents and educators is: "What are the conditions in your school (family, community) that allow bullying to occur?" The answers to that question are then the areas to address for intervention. We write about how to do this in our book Bullying Prevention and Intervention: Realistic Strategies for Schools (by Susan Swearer, Dorothy Espelage and Scott Napolitano, published in 2009 by Guilford Press). Interventions should be based on evidence. Since bullying will vary across schools and communities, each school in this country ought to be collecting comprehensive data on bullying experiences. Then, schools can use their own data to design effective interventions in order to change the conditions that are fueling the bullying in their own school and community. APA. From your research, what can you tell us about who becomes a bully? Are there different types of bullies? And if someone is a bully as a child, how likely is it that he or she will continue to bully into adulthood? Dr. Swearer. If we conceptualize bullying from a social-ecological perspective, there is no way to "profile" a bully. If the conditions in the environment are supportive of bullying, then almost anyone can bully. In fact, the mother of a daughter who committed suicide after being bullied once told me that the girls who bullied her daughter were just "regular kids." The conditions in their small town and small school were breeding grounds for bullying. My research has also looked at the dynamic between bullying and victimization. In one study, we found that kids who were bullied at home by siblings and/or relatives were more likely to bully at school. So, you can see that the dynamic is complex and crosses all areas in which we all function – in our community, family and schools. We do know that if left untreated, children who learn that bullying is an effective way to get what they want are likely to continue bullying behavior into adulthood. Thus, it is critical to intervene and stop the bullying during the school-age years. APA. How is the growth of social media, such as Facebook and mySpace, affecting bullying? Dr. Swearer. Technology has definitely impacted bullying. What used to be a face-to-face encounter that occurred in specific locations is now able to occur 24 hours a day, seven days a week. Technology—computers, cell phones and social networking sites -- are all conditions that allow bullying to occur. One way to protect our children is to limit and/or monitor their use of this technology. I ask parents, "Would you let your 12-year-old daughter walk alone down a dark alley?" Obviously, the answer is "no." The follow-up question is, "Then why would you let your 12-year-old daughter be on the computer or be texting unmonitored?" Parents and kids don't realize the negative side to technology and social networking sites. APA. Are there any other trends you're seeing through your research that you'd like the public to know about? Dr. Swearer. I really want the public to be aware of the link between mental health issues and bullying. As a licensed psychologist in the Child and Adolescent Therapy Clinic at the University of Nebraska – Lincoln, I and my colleagues have seen an increase in referrals for bullying-related behaviors. Whether students are involved as bullies, victims, bully-victims (someone who is bullied and who also bullies others) or bystanders, we know that in many cases, depression and anxiety may be co-occurring problems. I always assess for depression and anxiety when I'm working with youth who are involved in bullying. Bullying is a mental health problem. The American Psychological Association, in Washington, D.C., is the largest scientific and professional organization representing psychology in the United States and is the world's largest association of psychologists. APA's membership includes more than 152,000 researchers, educators, clinicians, consultants and students. Through its divisions in 54 subfields of psychology and affiliations with 60 state, territorial and Canadian provincial associations, APA works to advance psychology as a science, as a profession and as a means of promoting human welfare. APA Monitor: 2010
~~~~~~~~~~~~~~~~~~~~~~~~~~~~~~~~~~~~~~~~~~~~~~~~~~~~~~~~~~~~~~~~~~~~~~~~~~~~~~~~~~~~~~~~~
THE KEY TO MAKING LASTING LIFESTYLE
Is it will or skill? As the Obama administration tackles the national obesity epidemic, a new American Psychological Association poll shows that individuals need ongoing support to make lifestyle and behavior changes. According to a March 2010 APA poll conducted by Harris Interactive, fewer than one in five adults (16 percent) report being very successful at making health-related improvements such as losing weight (20 percent), starting a regular exercise program (15 percent), eating a healthier diet (10 percent), and reducing stress (7 percent)1 so far this year, although about nine in 10 adults (88 percent) who resolved to make a health-related change say they have been at least somewhat successful at achieving it since January. Despite these efforts, about three-quarters (78 percent) of those who made a health-related resolution say significant obstacles block them from making progress, such as willpower (33 percent), making changes alone (24 percent), and experiencing too much stress (20 percent). "Lasting lifestyle and behavior changes don't happen overnight. Willpower is a learned skill, not an inherent trait. We all have the capacity to develop skills to make changes last," said Katherine C. Nordal, PhD, executive director for professional practice at APA. "It is important to break down seemingly unattainable goals into manageable portions." Psychologists with APA report that, with the right support, individuals can learn how to make lasting lifestyle and behavior changes, regardless of the importance they place on willpower or the influence of stress. "Is it will or is it skill?" asks health psychologist and past president of APA's Division of Health Psychology Dr. Karina Davidson. "The reality is that, with the right guidance, people can build and strengthen the skills they need to make even the toughest lifestyle changes," she said. APA recommends talking about lifestyle and behavior goals with friends, family, or a professional, such as a psychologist, who can help navigate feelings and gain skills to successfully change behavior. With help, individuals can develop willpower and stay on track with their health-centered goals. For additional resources on making lasting lifestyle and behavior changes read the campaign blog Your Mind Your Body or follow @apahelpcenter on Twitter. 1 The full list of health related-resolutions also includes stopping smoking, reducing alcohol consumption, and getting more sleep on a regular basis.
~~~~~~~~~~~~~~~~~~~~~~~~~~~~~~~~~~~~~~~~~~~~~~~~~~~~~~~~~~~~~~~~~~~~~~~~~~~~~~~~~~~~~~~~~~~~~~~~~~~~~~~~~~~~~~~~~~~~~~~~~~~~~~~~~~~~~~~~~~~~~~~~~~~
A French Film Takes Issue With the
Psychoanalytic Approach to Autism
By DAVID JOLLY and STEPHANIE NOVAK Published: January 19, 2012 PARIS — "Le Mur," or "The Wall," a small documentary film about autism released online last year, might normally not have attracted much attention. But an effort by French psychoanalysts to keep it from public eyes has helped to make it into a minor cause and shone a spotlight on the way children in France are treated for mental health problems. The documentary, the first film by Sophie Robert, follows two autistic boys: Guillaume, who has been treated with the behavioral, or "American," approach; and Julien, who has been kept in an asylum for six years and treated with psychoanalysis. Guillaume, though challenged, is functioning at a high level in school. Julien is essentially silent, locked out of society. Since Sept. 8, when the film first became available on the Web, it and Ms. Robert, 44, have been the targets of criticism from both the analysts who appear in the film and from within the country's psychoanalytic establishment. Three of the psychoanalysts whom Ms. Robert interviewed for the film have sued her, claiming she misrepresented them in the 52-minute documentary, which has not yet been screened in cinemas or on television. On Jan. 26, a court in the northern city of Lille will decide whether Ms. Robert must remove their interviews from the documentary if she wishes to keep screening it. The plaintiffs are also seeking damages of €300,000, or $384,000. The lawsuit might be futile, since the film is widely available on the Web (with English subtitles), having been viewed on YouTube more than 16,000 times. (Ms. Robert argues that the plaintiffs, all of whom appear in the film, signed detailed releases.) Ms. Robert is planning to screen the film in Philadelphia at an autism conference on Jan. 27, the day after the court is to rule. If she wins, a local channel in the north of France, Weo, has agreed to screen it, as has Télévision Suisse Romande, a Swiss channel. The film makes no pretense of objectivity, juxtaposing interviews with psychoanalysts with scathing criticism of the field's precepts. Ms. Robert, 44, describes herself as an anthropologist and said she once wanted to be a psychoanalyst herself. "I would have never imagined what I discovered," she said of her first few interviews for the film. "Then I thought, wow, what I hear is just crazy." Christian Charrière-Bournazel, the lawyer for the three plaintiffs — Esthela Solano Suárez, Éric Laurent et Alexandre Stevens — did not respond to requests for comment. But in court filings, Mr. Charrière-Bournazel said the film had been edited to make his clients look absurd. Ms. Robert, he said, presented the project to the analysts as a documentary, though "it was in reality a polemical enterprise meant to ridicule psychoanalysis in favor of the behavioral treatments that are so fashionable in the United States." "The film is unfair," Élisabeth Roudinesco, a French historian of psychoanalysis at the University of Paris VII, said. "It is fanatically anti-psychoanalysis. But I don't think she's manipulated the film to make them look ridiculous; rather, I think she chose to talk with very dogmatic psychoanalysts who come across as ridiculous." Professor Roudinesco said the French psychoanalysis community was actually quite divided by the question of autism, with some "fanatics who believe that autism is caused by a frigid, cold mother. But you don't attack an entire discipline of medicine because of a scandal involving a few practitioners." "Even if it is proved someday that autism is a genetic malady," she asked, "why abandon the idea that the talking cure could help the patient?" The idea that children with autism spectrum disorder should be treated with the "talking cure" employed in psychoanalysis may sound outdated to some viewers, since many medical scientists believe that underlying physiological problems are at least partly responsible for the disorder. In the United States, the National Institutes of Health recommends that it be treated with behavioral and other therapies. Ms. Robert said the version of psychoanalysis that is most prevalent in France, particularly the post-Freudian school championed by Jacques Lacan, takes it as a given that autism and other mental health problems are caused by children's relationship with their mothers, or by "maternal madness." "Sometimes, when the mother is depressed, in utero, I mean when she is pregnant or at birth, sometimes the child can be autistic," an analyst tells the camera in one scene. Another explains that autistic children "are sick of language — autism is a way of defending themselves from language." To the question of what an autistic child can expect to gain from psychoanalysis, yet another analyst responds, "The pleasure of taking interest in a soap bubble. I can't answer anything else." "Many mothers here live in fear of the social services," Ms. Robert said. "If you refuse psychoanalysis for your child, they say: "You're refusing care," and they can put the kid in an asylum if they want." Whatever the reason, the Council of Europe found in 2004 that France had failed to fulfill its educational obligations to children with autism, and, according to Le Monde, only about one-quarter of children with the disorder attend school in France, compared with three-quarters in Britain. Critics like Ms. Robert argue that there is also a stigma about "American" diseases. In the United States and many other countries, for example, attention deficit hyperactivity disorder, or A.D.H.D., is treated with medications like Ritalin in combination with behavioral therapy. In the French system, simply getting a diagnosis is difficult, some psychologists and parents say. Christine Gétin said that she started looking for help for her son when he was 4 years old but that it took 10 years just to learn that there was such a thing as A.D.H.D. and that there was medication to treat it. "I saw that my son was suffering," Ms. Gétin said, becoming disruptive in class and falling behind. Mental health workers told her there was nothing they could do. It was only nine years later that a doctor finally diagnosed A.D.H.D., and the child got a prescription for Ritalin. After only one day on the medication, she remembers him saying that he no longer had to write everything down in order to get through the day. "My brain did it for me!" her son exclaimed after arriving home. Ms. Gétin has since gone on to start up HyperSupers TDAH-France, an organization to support families of hyperactive children. In the French system, she said, A.D.H.D. is seen "as an American disorder, or that it doesn't exist," Ms. Gétin said. Ms. Robert notes that the autism treatment that Guillaume used to learn speech — called picture exchange communication system, or PECS — was developed in the United States, something she said has made it that much harder for the French to adopt. "If you say it's American, that's a very bad thing," she said. Michel Lecendreux, a psychiatrist who advocates a medical approach to treating A.D.H.D., said there was a fear "that the U.S. mistakes — especially too much drug prescription — will be repeated. We're trying to avoid that." There are signs of change. Ms. Robert was recently lauded in the National Assembly, after François Fillon, the prime minister, announced that autism would be "the Grand Cause of 2012." Parents have more options for seeking treatment information than in the past, and doctors are being exposed to the latest treatments at international conferences. The dominance held by psychoanalysis is also showing signs of eroding: Ms. Robert says that while about 80 percent of those in the mental health field are required today to study psychoanalysis, that compares with 100 percent as recently as the 1980s. "Ideas are penetrating from outside, slowly," said Ms. Robert, who is hoping to make a second instalment on psychoanalysis and sexuality. "I'm very optimistic." This article has been revised to reflect the following correction: Correction: January 20, 2012A previous version of this article referred incorrectly to the day on which the film is to be screened in Philiadelphia. It is Jan. 27, the day after a court in Lille is expected to rule on the case.
~~~~~~~~~~~~~~~~~~~~~~~~~~~~~~~~~~~~~~~~~~~~~~~~~~~~~~~~~~~~~~~~~~~~~~~~~~~~~~~~~~~~~~~~~~~~~~~~~~~~~~~~~~~~~~~~~~~~~~~~~
THE HAPPINESS DIET
Sonja Lyubomirsky argues that limiting overthinking can improve our emotional well-being. April 2008, Vol 39, No. 4 Print version: page 24
Forty percent of our happiness may be within our power to control--and making ourselves happier could take less than 10 minutes a day, according to University of California, Riverside, psychology professor Sonja Lyubomirsky, PhD.
Winner of the 2002 Templeton Positive Psychology Prize, Lyubomirsky has been researching happiness for nearly two decades and is leading the way in the scientific study of interventions that lastingly increase human happiness, says former APA President and fellow positive psychologist Martin E.P. Seligman, PhD.
Backed by a five-year $1 million grant from the National Institute of Mental Health, Lyubomirsky--along with colleague Ken Sheldon, PhD--is exploring the potential of happiness-sustaining strategies, such as expressing gratitude and reflecting on happy moments, to permanently bolster one's happiness level.
Some of her key research includes a 2006 study--published in the Journal of Personality and Social Psychology (Vol. 90, No. 4)--in which Lyubomirsky and her graduate students found that people who thought about happy life events for eight minutes every day for three days felt increased life satisfaction four weeks later than they had prior to the study.
Lyubomirsky describes the theory behind this "40 Percent Solution" and introduces a dozen of these research-based "happiness activities" in her book, "The How of Happiness: A Scientific Approach to Getting the Life You Want" (Penguin Press, 2008). The Monitor spoke with Lyubomirsky about her book and how psychologists--and their clients--can use this research to achieve lifelong happiness.
Why research happiness?
Happiness is the Holy Grail of science. Most people in the world say that they want to be happy. I study not only how happy people are different from less happy people, but also how we can make people happier.
How does your book stand out from others on the subject?
I think that I'm the first author of a "how to be happy book" who actually does scientific research to determine whether people can become sustainably happier. Most books on happiness are not based on empirical research, but rather on people's opinions, anecdotes, clinical evidence and intuition. All of those things are valuable, but we need to validate that the folk wisdom holds merit. My book serves two goals: It presents the scientific literature, but also has a self-help component where I give people advice and recommendations on what to do--based on actual research results. And in areas where there is very little research, or where I only have correlational research results--for example, in the area of spirituality's effects on happiness--I make that very clear to readers. I don't think the majority of other happiness books do that.
How can people become sustainably happy?
That is the million-dollar question. It takes a great deal of effort and commitment. I often use the analogy of weight loss. Some researchers argue that there's a set point for weight, just like there is a set point for happiness. There are strategies that can help you lose weight, and everyone knows what they are: eat less and exercise more. But to sustain that weight you need to put a lot of effort and commitment into it. You don't just go on a diet for two weeks--you have to do it basically every day for the rest of your life. It's the same with happiness. If your set point for happiness is lower than you'd like, and you want to be happier, you really have to put effort into it.
How can psychologists help people boost their happiness?
A lot of people--life and happiness coaches, in particular--are already using some of the techniques I write about in the book to help their clients become happier, but most of their recommendations have not been based on solid empirical evidence. What I hope to do is to give clinical psychologists a jumping-off point to develop their own treatment plans. I'm not a clinical psychologist, and I'm not in the business of developing formal client treatment modules, but I think the book offers guidelines that psychologists can expand on and make even more specific to their clients.
Does climate affect happiness? Or is it true that people living in sunny California aren't any happier than Midwesterners?
When we measure their life satisfaction, Californians and Midwesterners fare about the same, and that shows the power of adaptation--the phenomenon that we tend to become accustomed to our life circumstances over time. For example, you move to a sunnier climate and at first you get this boost of happiness, but over time you adjust to it. Adaptation to positive events is one of the biggest obstacles to happiness. If people adapt to anything positive that they do and everything positive that happens to them, how can they ever become happier?
Are there strategies to overcome or forestall that adaptation?
To test this, Ken Sheldon and I have applied for a National Science Foundation grant to study groups of people who are starting a new hobby, like scrapbooking or photography. It seems that even with these kinds of hobbies, at first you're really excited to be doing something new, but over time you adapt to it. We're going to follow people as they take an arts-and-crafts class for the first time. In another study, we're going to give people a massage chair cushion to track their happiness level after receiving a new gadget. In the first set of studies we're going to look at the normal, natural course of adaptation to these things, and in the second series we're going to ask people to actively try to forestall adaptation through various strategies, such as trying to increase the variety of how they use the device, or, with the hobby, have them truly savor it.
What are the big questions that remain about human happiness?
We need more long-term longitudinal studies to determine whether people who continue to use happiness strategies in their lives truly stay happier. I also would be interested to see how those happiness practices affect other domains of people's lives. My prediction is that if people are trying to be happier, over time, not only are they going to feel happier but they will receive all of the other benefits that come with happiness: Their relationships will improve, their creativity might improve, they might become more pro-social. Maybe they'll even become better leaders and negotiators.
~~~~~~~~~~~~~~~~~~~~~~~~~~~~~~~~~~~~~~~~~~~~~~~~~~~~~~~~~~~~~~~~~~~~~~~~~~~~~~~~~~~~~~~~~~~~~~~~~~~
De-Stress your life in 10 easy steps
By Danny Penman and Mark Williams, Special to CNN updated 7:14 AM EST, Tue January 17, 2012
STORY HIGHLIGHTS
At this time of year, exhaustion, stress and unhappiness can dominate our lives
When you eat without thinking, you miss out on wonderful flavors, textures
Think back to when things seemed less frantic and duplicate your activities
Editor's note: Mark Williams and Danny Penman are the authors of "Mindfulness: An Eight Week Plan for Finding Peace in a Frantic World."
(CNN) -- The gloomy days of January can be the most miserable and stressful of the year, but it doesn't have to be this way. If you follow this ten step guide to destressing your life, then the next few weeks just might become the most serene and fulfilling ones of the year.
One step should be carried out on each of the next 10 days. They're based on the ideas found in the international best-seller "Mindfulness: An Eight Week Plan for Finding Peace in a Frantic World."
The book uses a program based on mindfulness meditation developed by us at Oxford University in the United Kingdom to relieve anxiety, stress, exhaustion and depression. Mindfulness has proved in some clinical trials to be at least as effective as drugs or counseling for dealing with these conditions.
So what is this mindfulness?
It is quite simply paying full, whole-hearted attention. A typical meditation involves paying full attention to the breath as it flows in and out of the body. Focusing on each breath in this way allows you to observe your thoughts as they arise in your mind and, little by little, to let go of struggling with them. You come to the profound understanding that thoughts and feelings (including negative ones) are transient. They come and they go, and ultimately, you have a choice about whether to act on them.
Mindfulness is about observation without criticism and being compassionate with yourself. When unhappiness or stress hovers overhead, rather than taking it all personally, you learn to treat it as if it was a black cloud in the sky, and to observe it with friendly curiosity as it drifts past.
Scientific studies have shown that mindfulness not only prevents depression, but it also positively affects the brain patterns underlying day-to-day anxiety, stress, depression and irritability. When these negative thoughts arise, they dissolve away again more easily. Other studies have shown that people who regularly meditate see their doctors less often and spend fewer days in hospital. Memory improves, creativity increases and reaction times become faster.
Here are 10 ways to decrease stress and increase mindful meditation in your life:
Day 1: Eat some chocolate
At this time of year, it's easy to eat too much chocolate and other high-carb "comfort foods." At first, all that lovely rich food is packed with flavor and totally irresistible. but after a while, you hardly notice it at all. And if you are in a rush, it tends to be wolfed down by the handful.
When you eat without thinking you miss out on so many wonderful flavors, textures and aromas. A single bar of chocolate, for example, has more than 300 flavors. How many of them do you normally taste?
Reconnecting with your senses is the heart of mindfulness, so why not try this chocolate meditation to help you enjoy your food again?
Day 2: Go for a short walk
Walking is one of the finest exercises and a brilliant stress reliever. A good walk can put the world in perspective and soothe your frayed nerves. It's the ideal way of taking a break from all of that work that built up during the holidays.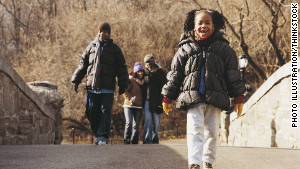 Walking is one of the finest exercises and a brilliant stress reliever.
So today, why not go for a 15- to 30-minute walk? You don't have to go anywhere special. A walk around your neighborhood, taken in an open frame of mind, can be just as interesting as a hike through the mountains.
There's no need to feel that you have to rush anywhere; the aim is to walk as mindfully as you can, focusing your awareness on your feet as they land on the ground and feeling the fluid movements of all the muscles and tendons in your feet and legs.
Pay attention to all of the sights, sounds and smells. You might see the deep red color of the berries on the trees and bushes or perhaps the inky grayness of slushy ice and snow. See if it is possible to be open to all your senses: Smell the mustiness of the winter leaves; feel the rain on your head; the breeze on your face; watch how the patterns of light and shade shift unexpectedly.
Day 3: Take a three-minute breathing space
When you're becoming angry, exhausted, anxious or stressed, it's difficult to remember why you should remain calm. And at such times, it can feel as if the whole world was created just to bait you.
The three-minute breathing space was created to deal with such feelings. Its impact is twofold.
First, it's a meditation that's used to punctuate the day, so that it dissolves negative thought patterns before they gain control over your life. Secondly, it's an emergency meditation that helps ground you when your thoughts threaten to spiral out of control.
When you are carrying out the meditation, you may find that your mind repeatedly runs away with itself. This is entirely natural. It's what minds do. They leap around and offer up thoughts to your conscious self, much as a child hold's up his or her toys to an approving adult. When you find that your mind has wandered, gently escort it back to full awareness and continue following the instructions on the track as best you can.
You can listen to the meditation here
Day 4: Do something pleasurable
At this time of year, exhaustion, stress and unhappiness can easily dominate. You can start to experience "anhedonia" -- that is, you can't find pleasure in life. The things you used to enjoy now leave you cold -- you feel as if a thick fog has put a barrier between you and simple pleasures, and few things seem rewarding any more.
You can counteract this by taking baby steps toward the things that you used to like doing but have since forgotten about. You can make a start by choosing one or two of the following things to do (or perhaps come up with your own ideas):
-- Be kind to your body. Have a hot bath; have a nap; treat yourself to your favorite food without feeling guilty; have your favorite hot drink.
-- Do something you enjoy. Visit or phone a friend (particularly if you've been out of contact for a while), get together what you need so you can do your favorite hobby, get some exercise, bake a cake, read something that gives you pleasure, listen to some music that you have not listened to in a long while.
Day 5: The intensely frustrating line meditation
Sometimes life can seem like one big long line. You have to line up to buy gas, to pay for the food in the supermarket and all of the bars and restaurants are crammed with people waiting to order.
Next time you feel like screaming "why don't they just get on with it!", try carrying out our Intensely Frustrating Line Meditation instead.
When you are in a line, see if you can become aware of your reactions when something holds up your progress. Perhaps you joined the "wrong" line, and are obsessing about whether to make a dash for another one that seems shorter? At such times, it is helpful to check in with what's going on in your mind. Taking a moment to ask yourself:
-- What is going through my mind?
-- What sensations are there in my body?
-- What emotions and impulses am I aware of?
Mindfulness accepts that some experiences are unpleasant. Mindfulness will, however, help by allowing you to tease apart the two major flavors of suffering -- primary and secondary.
Primary suffering is the initial stressor, such as the frustration of being in a long line. You can acknowledge that it is not pleasant; it's OK not to like it. Secondary suffering is all of the emotional turbulence that follows in its wake, such as anger and frustration, as well as any ensuing thoughts and feelings that often arise in tandem. See if you can see these clearly as well. See if it's possible to allow the frustration to be here without trying to make it go away.
Day 6: Set up a mindfulness bell
Pick a few ordinary activities from daily life that you can turn into "mindfulness bells," that is, reminders to stop and pay attention to things in great detail. There's a list below of things you might like to turn into bells. You don't have to turn them all into mindfulness bells -- they are just suggestions.
-- Preparing food: Food offers a host of opportunities to become more mindful. If you're preparing food, particularly if they are rich in flavors, smells and textures, then try and pay full mindful attention to all that you are doing.
-- Washing the dishes: This is a great opportunity for exploring physical sensations. If you normally use a dishwasher, do them by hand for a change. When your mind wanders, shepherd it back to the present moment. Pay attention to the texture of the dishes, the temperature of the water, the smell of the detergent, etc.
-- Listening to friends: If you are planning to meet a friend, or bump into one unexpectedly, it's easy to lapse into the same tired-old conversations. So why not turn a friend's voice into a "bell" that's a signal to pay full attention to what they are saying? Notice when you are not listening -- when you start to think of something else, what you are going to say in response etc. Come back to actually listening.
Day 7: The ten-finger gratitude exercise
To come to a positive appreciation for the small things in your life, you can try the gratitude exercise. It simply means that once a day you should bring to mind 10 things that you are grateful for, counting them on your fingers. It is important to get to 10 things, even when it becomes increasingly harder after three or four. This is exactly what the exercise is for -- intentionally bringing into awareness the tiny, previously unnoticed elements of the day.
Day 8: Do the sounds and thoughts meditation
Sounds are as compelling as thoughts and just as immaterial and open to interpretation. Certain songs might cheer you up -- or send you into an emotional tailspin. Sensing the power of sound -- and its relationship to thoughts and emotion -- is central to mindfulness and to becoming a happier, more relaxed and centered person.
Today, why not try our sounds and thoughts meditation? This elegantly reveals how the mind conjures up thoughts that can so easily lead us astray. Once you realize this -- deep in your heart -- then a great many of your stresses and troubles will simply evaporate before your eyes.
This meditation gradually reveals the similarities between sound and thought. Both appear as if from nowhere, and we have no control over their arising. They can easily trigger powerful emotions that run away with us leaving us feeling fragile and broken.
You can download the meditation here
Day 9: Reclaim your life
Think back to a time in your life when things seemed less frantic, before the time when some tragedy or increase in workload took over your daily existence. Or it might be more recent than that, before the run-up to Christmas say, or perhaps a relaxing break in the summer.
Recall in as much detail as you can some of the activities that you used to do at that time. These may be things you did by yourself (reading your favorite magazines or taking time to listen to a track from a favorite piece of music, going out for walks or bike rides) or together with friends or family (from playing board games to going to the theater).
Choose one of these activities and plan to do it today or over this weekend. It may take five minutes or five hours, it might be important or trivial, it might involve others or it could be by yourself.
It is only important that it should be something that puts you back in touch with a part of your life that you had forgotten -- a part of you that you may have been telling yourself was lost somehow, that you could not get back to. Don't wait until you feel like doing it; do it anyway and see what happens. It's time to reclaim your life!
Day 10: Go to the movies
Ask a friend or family member to go with you to the movies -- but this time, with a difference. Go at a set time (say 7 p.m.) and choose whatever film takes your fancy only when you get there. Often, what makes us happiest in life is the unexpected -- the chance encounter or the unpredicted event. Movies are great for all these.
Before you go, notice any thoughts that may arise such as, 'I haven't got time for pleasure', or, 'What if there is nothing on that I'll enjoy?'
They undermine your enthusiasm for taking action and discourage your intention to do something that might nourish your life in important ways. Once you're inside the cinema, just forget about all this and be consumed by the film.
.